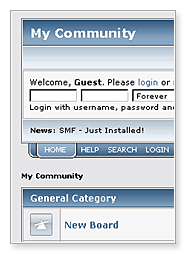 As an admin of Simple Machine Forum, two things are important and have priority, one is to give your SMF forum an XML Sitemap, another is verify your web in Google Webmaster tools.
Here
you may find Sitemap mod, and it's quite handy to install this package. but one word for precaution, don't be confused by this sentence: 
Google does not like SEF formatted URLs for the sitemap because it won't show the sitemap in the root directory
just do as the author tells you, make a .htaccess file under your root directory, and copy & paste the rewrite rule into this file and click save. My forum system files are under root directory, so I made a minor change, from /forum/index.php?action=sitemap;xml to /index.php?action=sitemap;xml. 
The second thing is how to verify your forum in Google Webmasters Tools.
Here
is a forum thread discuss this topic, the easiest way to add META tags in home page is to edit file "index.template.php" in your theme directory,  If you use "SMF default theme - core", you may have to login to your theme directory, otherwise you may only login to your forum as admin, then go to "themes and layout settings -> Modify themes", then add meta tag in the html head section.